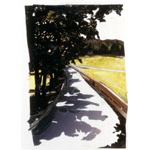 Working in collage has created a new palette, with colors, texts and patterns that are not available with paint alone. Each collage is meticulously constructed with much attention to detail and is primarily made out of various textured paper from magazines. I take advantage of the glossy to mat surfaces and the full spectrum of printed colors. Using this technique, I am able to create landscapes and still life, all made up of different shapes of paper.

When starting a piece, I view printed matter, (such as magazines, newspapers) tear out pages with colors that appeal to me and arrange them much like a painter's palette. Then, using my own photographs as a reference, I use a pair of scissors or tear the paper into different shapes and forms, which relate to the image I am creating.

As a result of using pages from magazines, my work at times is mistaken for photographs. However, on closer inspection, the viewer discovers the image is constructed solely of different colors and shapes of paper that play on light, shadow, form and content.

In my work, I try to convey a sense of serenity, tranquility and peace. I also try to establish a sense of privacy and intimacy, in which I invite the viewer into my private moments. ­ - Moments where there is stillness and inner calm.

Artists such as Edward Hopper, Fairfield Porter, John Button and Wolf Kahn, who express a similar quality of stillness, peace and a sense of the moment, have greatly influenced my work.